The Foundations of Our Purpose-Driven Culture
To fulfill our industry's promise to clients and communities as a whole, our perspective is holistic and futuristic. Just as information technology is shifting from mainframe and legacy systems to loosely coupled distributed services, so the financial industry will be shifting from monolithic to networked organizations with a focus on digital imperatives and the broadest possible service range.
Our purpose-driven corporate culture is therefore founded securely on four pillars that together help us deliver – to all stakeholders – the potential for sustainable added value, open architecture benefits, and maximum flexibility: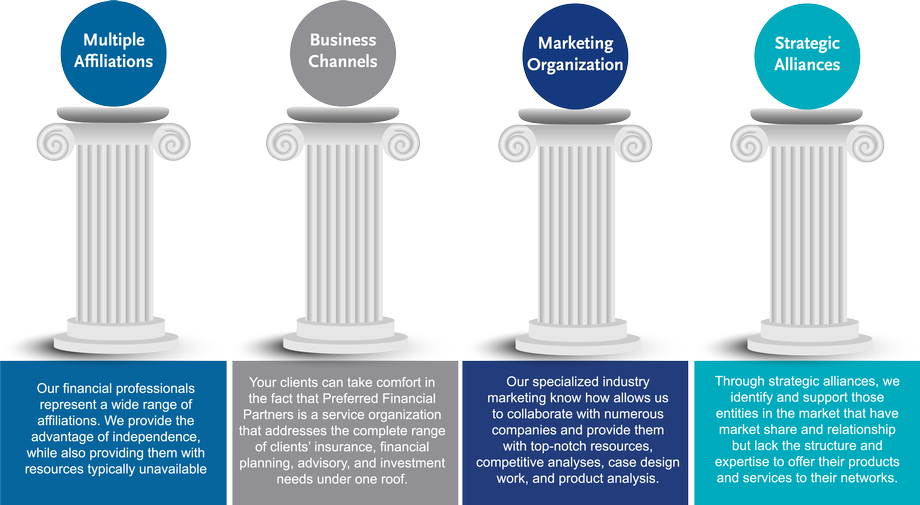 A Unique History of Community Participation and Diversity
At Preferred Financial Partners, we believe we are as accomplished as our actions and ability to establish relationships. Our leadership sets the example with a unique record of achievement marked by a plethora of executive memberships, community impact, awards, and publications. Our advisors and partners benefit from our background spanning decades of industry insight, field experience, practice management, and local alliances.
Financial professionals today want to be part of a bigger purpose where core values align with community enrichment. Recognizing and capitalizing on the strength of a multicultural and diverse field force is a leadership responsibility – both to address the unique needs of an increasingly diverse consumer base and to reflect that diversity in our own firm. A culture of shared values and community involvement is the path to owning the future marketplace.
Preferred Financial Partners is highly involved in the community, and we will continue to expand our efforts every year to further our commitment. We support a variety of issues related to diversity, women, children, literacy, medicine, disability, economic empowerment, and others. A few of the causes we support, through board memberships or community projects, are:
American Cancer Society

Child Safe of Michigan

Detroit Rescue Mission

Detroit Economic Club

Disability Awareness Night (Detroit Tigers)

Easter Seals

Family Promise of Genesee County 5k Run

Gilda's Club "Bras for a Cause" (supporting breast cancer survivors and community)

Gleaners Food Bank

Judson Center "A Night to Embrace Our Children and Families Gala"

JVS Strictly Business

Special Olympics of Michigan

Reggie Jackson Foundation (DETermined to Assist Foundation) – a Detroit foundation providing literacy lounges in inner city schools

Wounded Warriors

Cal's Angels (pediatric cancer foundation)

Miracle League (developed baseball fields for kids with disabilities)